Snap Shots
'Round About the Institute
Suspended Students, Professor: Measurements Made in Zero Gravity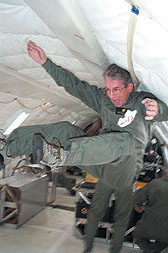 The Deformation of Granular Material, particularly the relationship between the stresses and the rates of deformation, has been the subject of some controversy and much discussion since R.A. Bagnold's observations 50 years ago. Earth-bound experimental measurements are fantastically difficult due to the action of gravity, which makes it almost impossible to sustain a homogeneous suspension of the grains.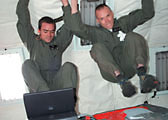 For this reason, Professors Melany Hunt and Christopher Brennen devised a rheometer to fly in zero gravity in the NASA KC-135 airplane and to make measurements in that environment. The experiment was built by post doctoral scholar Jim Cory (MS '98 APh, PhD '01 APh) with help from graduate student Steve Hostler. Cory, Hostler, and Brennen flew the experiment at NASA Glenn in June, doing three flights, each with 40 25-second intervals of zero gravity. The photographs give a slightly different meaning to the phrase "you are now free to move about the cabin."
---
East Coast Campaign Kick-Off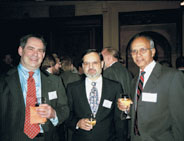 The Institute's "There's only one. Caltech" fundraising campaign recently made its way to the Big Apple with a celebration dinner at Gotham Hall, a newly restored historical building in midtown Manhattan. Nearly 200 guests attended the gala event, which introduced alumni and friends on the eastern seaboard to the Institute's ambitious plans for the future. The program included remarks from Ben Rosen (BS '54 EE), Chairman of the Board of Trustees,Wally Weisman, Vice Chairman of the Board of Trustees and Campaign Chairman, and President David Baltimore, as well as a screening of the campaign film, Infinite Possibilities. Adding greatly to the event was the presence of many Caltech faculty members and trustees who helped foster engaging conversations about the work of the campus community and beyond.
To find out more about the campaign, visit http://one.caltech.edu